A widespread cause leading to garage door repairs is often a broken spring. At Poulson Doors LLC, we understand the pivotal role of springs in garage doors. 
Broken springs develop gradually with time. They can loosen or break, leaving your garage open or inaccessible. Let's dive deep into how garage door springs break.
A Brief Look at Garage Door Springs
Your garage door springs power the essential function of opening and closing. Here's how you can find them:
Two types: Torsion springs are above the door, and extension springs are on the sides.
Function: Springs, wound tightly with potential energy, assist your garage door springs to lift or lower the hefty garage door.
Life span: Typically, springs last around 10,000 cycles. For some, that's a decade. For others, it's shorter based on usage.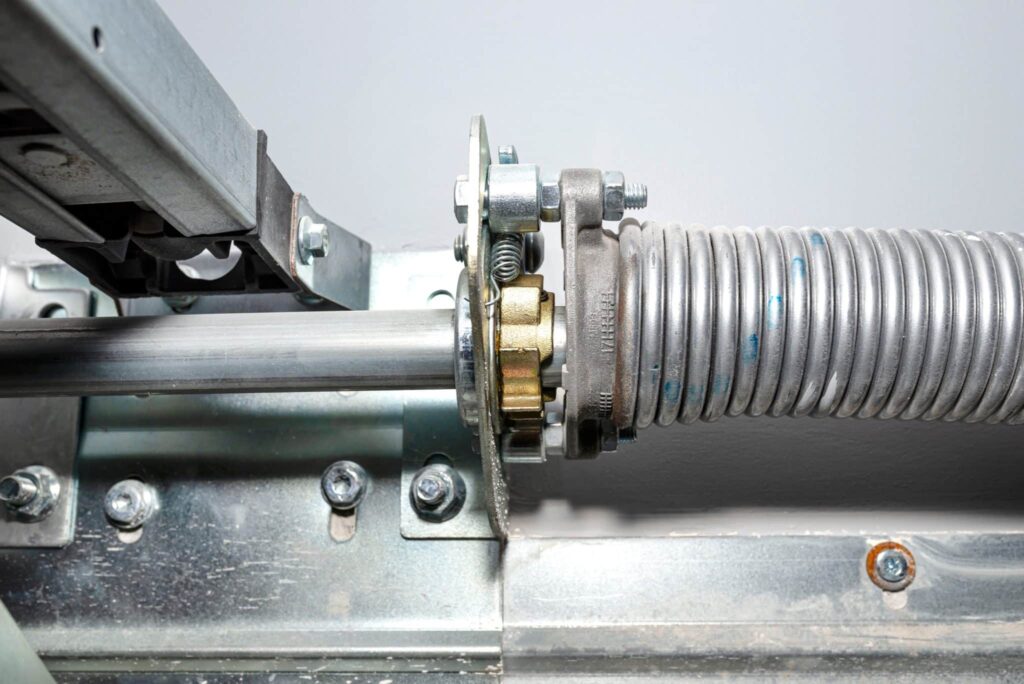 Why Do Garage Door Springs Break?
Once you see your garage door stagger up or sometimes struggle to touch the ground, it is probably because the extension springs need replacement. Here are various causes leading to a broken garage door spring:
Wear and tear: Repeated usage wears them down over time.
Defective springs: Sometimes, springs can have manufacturing defects.
External damage: Accidental hits or external factors can damage them.
How Do You Know You Need a Broken Spring Replacement?
A crooked garage door signals broken extension springs. But you can also notice broken garage door springs with these signs:
Sudden loud noise: Like a bang coming from the garage signaling danger.
Operational issues: The garage door struggles to open or close or doesn't work.
Imbalanced door: One side may appear higher than the other.
Sudden heaviness: Broken springs can affect the weight distribution when you lift the door.
Visible gaps: An elongated spring may skew your door when closing.
Rapid falls: Quick and dangerous closing can lead to accidents.
What Should You Do?
A garage door relies on a healthy spring for smooth operation. If your spring breaks, stay safe. These springs are wound tightly and can be dangerous. Please don't attempt to fix them yourself. Call us instead. Our Ogden team has the tools and expertise to efficiently handle broken spring replacements.
Our Broken Spring Replacement Process
Our team expedites garage door services and repairs to give Ogden residents a fast turnaround time. Our spring replacement process looks like this:
Detailed inspection to determine the precise spring type and size
Expert removal of the broken spring
Precise alignment and installation of the new spring
Calibration for optimal tension
Safety and efficiency tests
Why Timely Broken Spring Replacement Matters
A broken spring can increase stress on your garage door, leading to early or premature failure. Residential and commercial garage door spring maintenance is important. By scheduling regular service and repair, you can prevent severe garage door damage, limit pressure on your opener and reduce the risk of escalating repair costs.
Contact Us Today for a Free Quote
With every replacement, we offer a dedicated warranty, ensuring you receive both quality parts and impeccable service. For over a decade, we have been the go-to for Ogden residents for garage door needs. Remember, your garage door's safety and functionality are our top priority.  Join hundreds of our Ogden clients happy with our excellent customer care and affordable prices. Choose Poulson Doors LLC for all your broken spring replacement needs in Ogden. Contact us today for a free quote!
Poulson Doors LLC firmly believes quality over quantity. We promise that we will do the job right the first time. We also believe in word of mouth for a job well done. Most of our Ogden clients are repeat clients or ones that have heard through word of mouth of our excellent workmanship and our affordable prices. If you are looking for this type of commitment then give us a call today!