Poulson Doors LLC in Ogden offers both residential and commercial garage door openers. Has your garage door started opening and closing slowly or stopped completely? That means you have a broken garage door opener. It is often a simple fix, but other times, you may need a new garage door.
How to Know if You Need a Garage Door Opener Replacement or Repair
You can stay on top of potential garage door opener issues by recognizing these key indicators of a problem:
Inconsistent operation: If your garage door intermittently opens, closes or stops midway, contact us.
Unusual noises: A well-functioning garage door opener operates quietly. Listen for unusual sounds like grinding or squeaking, which might suggest a need for attention.
Remote control failures: Ensure your remote responds promptly. If you find yourself pressing multiple times or it works only when close to the door, inspect the opener or its remote.
Door partially closes: Your garage door should touch the ground consistently. If it reverses prematurely, it may be an indication to check the door's safety sensors or the opener.
Vibrations and shaking: Excessive vibration can indicate that the garage door opener is aging. Consider an upgrade for smoother operation.
Repeated breakdowns: If you experience frequent malfunctions even after repairs, it might be time to explore more modern, reliable options.
Spotting these signs early ensures your garage door opener remains in peak condition. If your opener is beyond repair, it may be time for a replacement.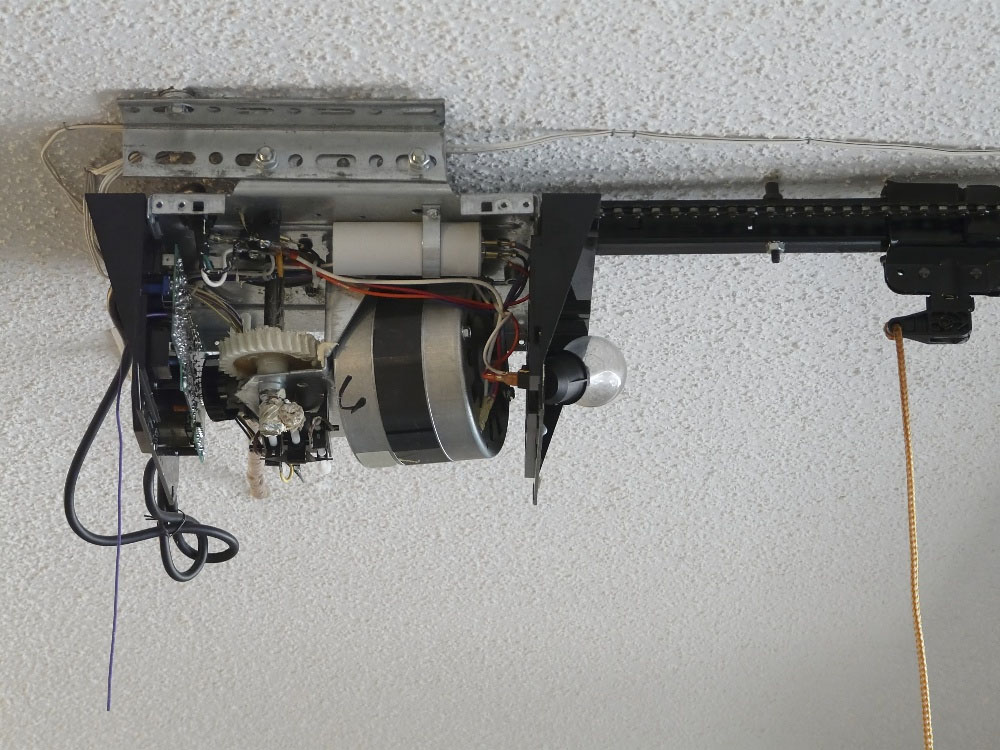 Garage Door Opener Repair
Poulson Doors LLC offers Ogden complete garage door opener repair. We can repair all garage door openers even though our main brand is LiftMaster. We offer repairs on both commercial and residential. Experts can often fix your garage door opener, but we only carry the best in the industry if you need a replacement. We carry LiftMaster products. They are built strong and can be put through the toughest situations and keep going!
At Poulson Doors LLC, we understand that garage door opener issues can disrupt your daily routine. Our repair services offer you the reliability and security you need, along with these benefits:
Wide range of brands: LiftMaster is our flagship brand. But our technicians repair all major garage door openers. We can handle whether you have an older or a modern system.
Residential and commercial solutions: Our team customizes strategies for each repair, from homes to businesses.
Rapid response time: Garage door issues can compromise security. Our team prioritizes prompt service. We aim to deliver within a quick turnaround, restoring peace of mind.
Garage Door Opener Replacement
If your garage door opener has become faulty or you need more power, call Poulson Doors LLC. We are available to the entire Ogden area and offer affordable prices to residential and commercial businesses. LiftMaster is a great brand and the best for most garage doors. They come in different types of power and are hassle-free garage door openers. 
We offer the following garage door replacement options when a repair calls for advanced action:
LiftMaster: Our dedication to quality is evident in our choice of LiftMaster as our primary brand. It has diverse power settings suitable for doors of various weights and sizes. LiftMaster is a solution made to ensure smooth and efficient operations.
Full installation support: Transitioning to a new system can be daunting. We simplify the process. We offer a hands-off experience, from selection to installation.
Garage Door Accessories
Complement and elevate your garage door system with these accessories:
Resilient backup systems: This is an essential accessory, especially considering Ogden's occasional power outages. They have battery-powered systems ensuring your garage door remains operational during power cuts. Enjoy consistent access, even in power outages.
Advanced keyless entry systems: These offer a mix of convenience and modernity. They integrate proximity sensors to detect your vehicle and prompt door operation. They offer you secure, hassle-free access with minimal manual controls.
Contact Us Today
Trust the experts at Poulson Doors LLC for top-tier garage door services in Ogden. With a commitment to excellence and a keen focus on customer satisfaction, we're your go-to for all garage door needs. Get a detailed estimate or schedule a consultation today.